it's about passion, hard work & experience.
There are no shortcuts. We bring purposeful passion together with a custom luxury, so you can see your dream home come to life.
With demonstrated innovative planning, your executive-style home will feature luxury through the finest construction methods and materials. Our pride and care are reflected in every Saga home project.
When looking to build in one of Edmonton's high-end communities, like Glenridding, the Uplands, or any other estate neighbourhood, consider a custom executive home built by Homes by Saga. Our expert team of designers and builders utilize only the best quality tools and finishes to ensure your new home boasts the height of luxury living at its finest, and from inception to completion, foundation to roof, you our personal care and attention to your home is second to none.
Every Saga build is crafted by hand with care. Your optimal comfort and convenience are the focus of our innovative designs. We offer a distinctly different experience and showcase inspiring, yet timeless design trends, in modern high-end development.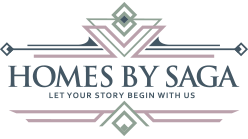 why choose us
let your story begin with us
"*" indicates required fields